Give joy to children in need!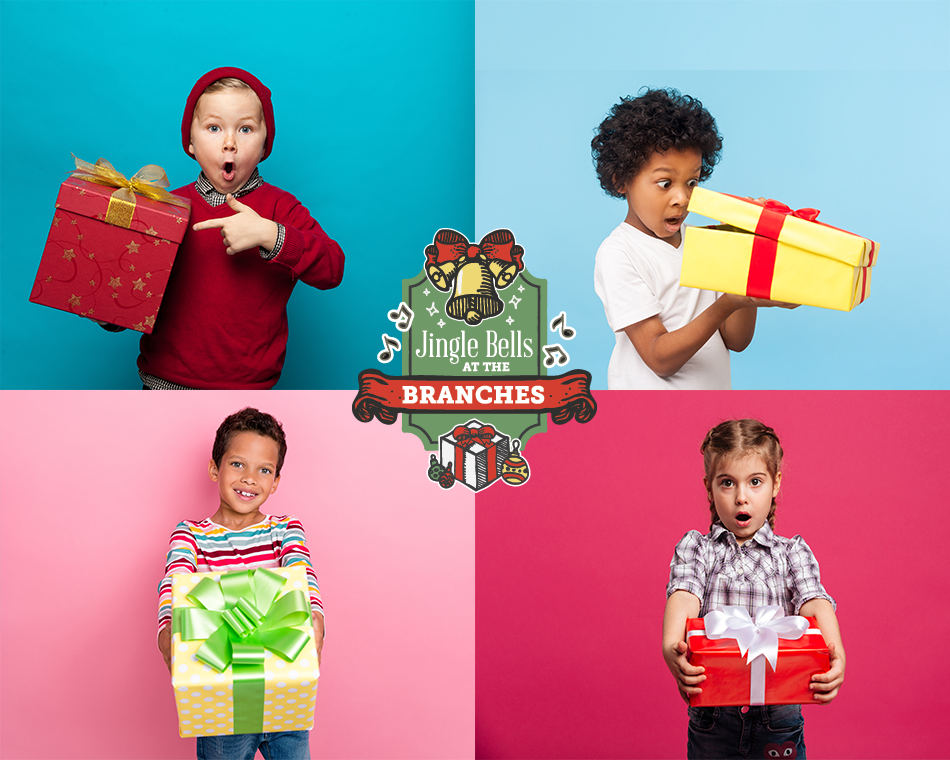 The mission of the iTHINK Community Foundation is to improve the lives of children and families in the communities we serve. The holiday season is one of the best times of year to further this commitment.
With the help of iTHINK Financial employee, member, and vendor donations, the iTHINK Community Foundation hosts its annual Jingle Bells at the Branches events.
Hundreds of children are invited to come out and participate in Holiday Parties where they are treated to:
Fun activities
Holiday treats
Wrapped age-appropriate gifts
A visit with Santa Claus
Donate today, or call 800.873.5100 to learn other ways you can help the iTHINK Community Foundation improve the lives of children and families in the communities we serve.
Join us for a fun-filled event where children who need our help the most can enjoy activities, eat holiday treats, unwrap gifts, and meet our special guests from the North Pole. You can help by purchasing a paper bell at a branch to hang on our walls, donating online, or dropping off an unwrapped toy for a boy or girl aged 4–5.
Your donations will help support kids in need at the schools below:
Georgia
November 28, 2023, Easter Seals North Georgia - 1240 Warsaw Rd, Roswell, GA 30076
November 29, 2023, Kidazzle - 831 York Ave, Atlanta, GA 30310
November 30, 2023, Sheltering Arms - 1585 Roberta Dr, Marietta, GA 30008
December 1, 2023, Marietta Head Start - 461 Allgood Rd NE, Marietta, GA 30060
South Florida
December 5, 2023, West Riviera Elementary - 1057 W 6th St., Riviera Beach, FL 33404
December 5, 2023, Galaxy Elementary - 550 NW 4th Ave, Boynton Beach, FL 33435
December 6, 2023, Oriole Elementary - 3081 NW 39th St., Fort Lauderdale, FL 33309
December 6, 2023, Sanders Park Elementary - 800 NW 16th St., Pompano Beach, FL 33060
December 7, 2023, Village Academy - 400 SW 12th Ave, Delray Beach, FL 33444

Treasure Coast
December 12, 2023, Citrus Elementary School - 2771 Citrus Rd, Vero Beach, FL 32968
December 12, 2023, St. Helen's Head Start Center - 3550 41st St., Vero Beach, FL 32967
December 13, 2023, ALPI Child Development & Family Services - 198 NW Marion Ave, Port St. Lucie, FL 34983
December 14, 2023, RCMA - 111 N Maple St., Fellsmere, FL 32948
2022 Jingle Bells at the Branches

The iTHINK Community Foundation Inc. is a 501(c)3 non-profit organization registered in the state of Florida, Registration #CH47200.
A COPY OF THE OFFICIAL REGISTRATION AND FINANCIAL INFORMATION MAY BE OBTAINED FROM THE DIVISION OF CONSUMER SERVICES BY CALLING TOLL-FREE (800-435-7352) WITHIN THE STATE. REGISTRATION DOES NOT IMPLY ENDORSEMENT, APPROVAL, OR RECOMMENDATION BY THE STATE.