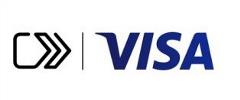 Love shopping online, but hate all the hassles when it's time to pay? Visa Click to Pay is a digital payment service that can make online payment as fun and easy as online shopping. You can use it anywhere Visa Click to Pay is accepted — on the go with your tablet or smartphone, or at home with your computer.
With Visa Click to Pay, paying online is:

Easy
Add any major card to enroll. Then pay with Visa Click to Pay — it's easy to spot! Look for this icon

and you can skip guest checkout, bypass form fields, and forget the hassle of remembering passwords.
Smart
Set up once and choose "remember me" and "trust this device" on your trusted devices to enjoy the same time-saving digital experience wherever you see the Visa Click to Pay icon.

Secure
Shop worry-free. You can feel confident knowing that Visa uses advanced technologies and multiple layers of payment security to help protect your card against unauthorized use.
Simplify online payment with Visa Click to Pay and your iTHINK Financial Visa® Credit Card or Debit Card at https://usa.visa.com/pay-with-visa/checkout.html
Using Visa Click to Pay is a snap.
Just enter your info once. Then simply:
Look for the Visa Click to Pay icon

Enter your email and one-time code (select "Remember Me" on trusted devices to bypass this step in the future)

It's really that easy, so why not enroll now?