From US Hwy 1 South – The Branch will be located on the left right before 12th St.
From US Hwy 1 North – The Branch will be located on the right after crossing over 12th St.
From Indian River Blvd – Turn onto 12th Street and go North on US HWY 1. The Branch will be on the right.
Branch Manager: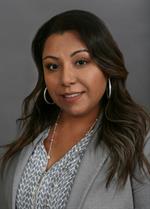 Adriana Nuno
Branch Manager
Get to know Adriana:
What drives you? What are you inspired by? Working hard for what you believe, setting goals in life. I never give-up. Being patient and persistent. Life gives me the opportunity to try again, to be a better person. It's never too late to start over.

What are your passions/interests outside of the workplace? My passion is my family: my husband and my two boys together having fun, eating ice cream, traveling, doing things together, life only comes around once.

What was your first job? Publix, part-time cashier while in High School

When did you start working at iTHINK Financial and what was your position? I started in April 2015 as a Branch Manager.

What's your favorite thing about your branch? My favorite thing about my branch is everything! I enjoy what I do... helping our members face-to-face and over the phone with questions and concerns.

Upcoming Events
Check out what's happening at iTHINK Financial.