From I-95, exit at Okeechobee Blvd. heading west. In 2.1 miles, make a right onto Military Trail. In 1 mile, turn left on Community Drive, then make your first left into the Crosstown Plaza shopping Center. The Credit Union is just to the right of Publix.
Branch Manager: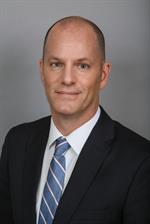 Jeff Fine
Branch Manager
Get to know Jeff:
What are you inspired by? I am inspired by my parents. They worked so hard to provide a great life for my brother and me.

What are your passions/interest outside of the workplace? I love basketball, especially the Miami Heat, and the University of Connecticut.

What was your first job? My family owned a paint store in the pre-giant home improvement store era. I used to mix the paint, stock the shelves, sweep the floor, anything to help out.

How long have you worked at iTHINK Financial? I was hired in September 1994 as a Branch Manager trainee.

What's your favorite thing about your branch? Definitely the members. A lot of them are from a different era, and I love hearing their stories about how the world has changed during their lives.

Upcoming Events
Check out what's happening at iTHINK Financial.