Take I-75 North to the Windy Hill Road exit. Turn right onto Windy Hill Road. Go straight and cross over Powers Ferry Road. Continue going straight until you see a large fountain. The Credit Union is located in the building directly behind the fountain.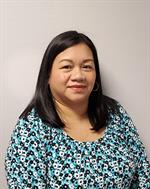 Mary Ovas-Malinao
Branch Manager
Get to know Mary:
What drives you? What are you inspired by? The ability to make a difference in Member's lives and to serve our community. I am inspired by my family to become a better person every day.

What are your passions/interest outside of the workplace? I enjoy watching movies, traveling and finding new places to eat.

What was your first job? I worked as a Casino Dealer.

How long have you worked at iTHINK Financial? I started in December 2003 as a Teller at the Hillside Branch.

What's your favorite thing about your branch? Teamwork and awesome members!

Upcoming Events
Check out what's happening at iTHINK Financial.