From I-75 south, take the Jonesboro/Morrow exit and keep to the right. At the 2nd traffic light, make a right onto Mount. Zion Road. After passing thru the 1st traffic light, you will see the Olive Garden to your right. At the next traffic light make a left onto Kelly Ave. The Credit Union is on your right.
Branch Manager: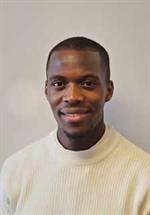 Kofi Adu Amankwah
Branch Manager
Get to know Kofi:
What drives you? What are you inspired by? My Parents. They instilled a strong work ethic in me from a young age.

What are your passions/interest outside of the workplace? I enjoy watching movies and going out to eat.

What was your first job? I worked in a auto repair shop as a tire specialist.

How long have you worked at iTHINK Financial? I was hired in December 2018 as a Digital Branch MSA.

What's your favorite thing about your branch? The members and my brilliant team!