Need a Visa® Debit Card?
Contact us at 800.873.5100 or serviceplus@ithinkfi.org, or stop by your nearest branch to get your card today.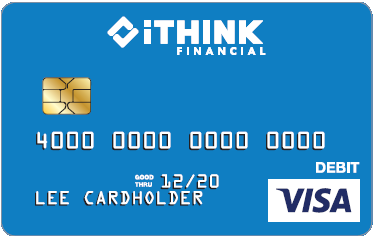 It's Convenient
Make purchases at grocery stores, gas stations, shopping centers and more, and pay no iTHINK Financial fees
Accepted at millions of locations worldwide – online, in stores, or over the phone
Access money with no surcharge fee at iTHINK Financial ATMs and at more than 60,000 nationwide ATMs and 12,000 international ATMs within the Allpoint, CULIANCE, CUHere, and Moneypass networks**

Get cash back with your purchases with no fee when you select the "debit" option and enter your PIN
It's Safe and Secure
Protects you from unauthorized purchases with Visa's Zero Liability Policy***
Easier and safer than carrying cash or checks
Lock your card using Card Control to prevent unauthorized users from making purchases if your card is lost or stolen or while traveling
Help is available 24/7 if you have any concerns about a lost or stolen card

Your account is electronically monitored for unusual activity to protect you from debit card fraud
It's Easy to Manage Your Finances
Money comes directly from your iTHINK Financial Checking account
You can view your complete transaction history in real time through Online Banking or Mobile Banking
You have the option to select your own PIN for your Visa® Debit Card at a branch
How to select your PIN
You can now select or change your debit card PIN in our branches!
Simply stop by your nearest branch and a Member Service Advisor can assist you. It only takes a few minutes!
Instant Card Issuance at our Branches
Members have immediate access to new debit cards at all branches! Whether you need a debit card for your new checking account or need a replacement card due to card damage, theft, loss or fraud, this free service allows members to visit a branch and leave with a working debit card the same day. You can choose from several unique card designs.
Instant Issue cards are the secure, fast and free solution for members. You will no longer have to wait 10 or more days to receive a card and PIN in the mail.
Activate a Visa® Debit Card
Or you can contact us 24/7 at 800.873.5100 for assistance:
Press option 2, select 1, then select 1 for English or 2 for Spanish.
You will be transferred to the activation line.
*Note, in order to activate your card, you'll need to enter your card number. Before activating, please ensure Card Control for this card is set to "unlock."
Lost or stolen card?
If your iTHINK Financial credit or debit card was lost or stolen, you can lock your card using
Card Control
to prevent unauthorized users from making purchases. If you later find your lost card, you can unlock it yourself at any time. After locking your card, you will still need to contact us to report it lost or stolen and order a replacement.
To report your Visa® Credit Card or Visa® Debit Card lost or stolen, please contact us 24/7 at 800.873.5100 for assistance.
If you are overseas and calling during our business hours, Mon-Thurs 8:00 a.m. – 5:00 p.m. EST or Fri 8:00 a.m. – 6:00 pm EST, we will accept a collect call to report your card Lost or Stolen. If you are overseas and calling outside of our business hours please contact Visa directly by locating the phone number for the country in which you are traveling.
Fraud Alerts
To help protect your account, transactions made with your iTHINK Financial credit or debit card are monitored for unusual or suspicious activity. If we suspect a purchase is fraudulent, we will notify you right away so that you can verify the transaction or freeze your card to prevent further fraud.
If we have a cell phone number for you, we will first notify you via text message from the text short code number 81508. If we do not get a response to the text or if you do not have a cell phone number on file with us, we will notify you by phone call. Please make sure that we have your current phone numbers so that we can quickly contact you. You can check your contact information and make updates through Online or Mobile Banking - just click on "Settings" and then select "My Account Profile."
Credit Card or Debit Card Disputes or Questions
For questions or disputes about your Visa® Credit Card or Visa® Debit Card, please call 800.873.5100 between 8:00 a.m. and 5:00 p.m. Monday through Friday or email
visa@ithinkfi.org
.
Fax your Visa® Debit Card disputes to 561.226.5401.
Fax your Visa® Credit Card disputes to 561.226.5414.

New card? No problem.
Save your iTHINK Financial Credit or Debit Card for things like bill payments and online purchases — and we can update your payment info automatically when it changes and your card is re-issued.*
Skip the hassles of updating your payment info
Avoid declined payments
Prevent service interruptions
Save your card today and enjoy simpler updates with many billers and merchants.
*Not all merchants participate in automatic updates. Updates are not guaranteed before the next billing cycle.
*All iTHINK Financial Visa® Debit Cards are subject to qualification, address and identification verification and approval. Certain terms and conditions apply. Please refer to our Membership Disclosure and fee schedule or contact a Member Service Advisor for details. See our REWARDS page for more information.
**Surcharge-free means the owner of the ATM will not charge a fee for the use of the ATM by Visa® Debit Card holders. Depending on your REWARDS level, you may be subject to a Credit Union service fee for making withdrawals and balance inquiries at an ATM not owned by iTHINK Financial.
***Visa's Zero Liability Policy does not apply to certain commercial card or transactions not processed by Visa. Cardholders must use care in protecting their card and notify iTHINK Financial immediately of any unauthorized use. For specific restrictions, limitations and other details, please contact iTHINK Financial. Card Activation denotes your agreement to all iTHINK Financial Debit Card fees, terms and conditions.